Ok! So let this be a reallllly quick post! I have colleagues asking me what powder/eye-liner/mascara do I use because my make-up stays pretty much the same at the end of the working day with totally no smudges under my eyes. So here is a post sharing what products I usually use, they're mostly very lasting products even on it's own. I dont use all of them all the time, but I can share when and how do I use them together.
I have oily/combination(oily t-zone + dry cheeks), super sensitive and kinda fair skin. And before this, my makeup used to melt and oxidize into an ashy colour at the end of the day(damn the weather). Now they dont. Most of the time(esp. during work), I wear pressed powder, liner/mascara, blush and tinted lip balm. An example of the finished look can be found in the
1st picture
just below this post. If you're interested in natural-looking and very long-lasting makeup, then do read on. Guys, you can skip this. =P
A) Primers
Primers are basically stuff which you apply onto your face before your makeup to prep your skin for better application and to help your makeup lasts. 1,2,3 & 4 are in order of application.
1) Etude House Skin Mal-gam Oil control toner - apply this with a cotton wool on clean face. Wonderful scent!
2) Biore UV perfect face milk for oily skin, spf 50+ PA+++ - controls oil, acts as a sunblock too
3) Nivea Visage UV blocker oil-free moisturizer, spf 30 PA++ - I usually apply this if I'm wearing pressed powder alone without foundation/BB cream. It's to prevent the surface from becoming too dry and flaky after you pat your pressed powder. If I'm wearing foundation/bb cream, I'll skip this.
4) Make-up Forever HD Primer in #5, oil-free - helps makeup lasts and to cover slight redness. You can get a Sephora consultant to choose a suitable primer for you because there are as many as 7 types for different skin types/colours. As it has a slight white cast, so I only apply on T-zone and below my eyes and blend out(very impt), so that it acts as a contouring primer too.
5) Urban decay Eye shadow Primer Potion - apply this only if you're applying eye-shadow and just before your eye-shadow. It helps eye-shadow stays all day/night.
B) Face products (not in order)

After your primers, you can choose to apply pressed powder or loose powder or foundation/BB cream and then set with loose powder. It's your choice. Apply concealer if you need before these products.


6. Make-up forever HD foundation, colour#117 (oil free) - as it's a fond de teint, it only offers sheer coverage. More for day makeup.
7. Etude House Moistfull BB cream - spf 30 PA++ with collagen - a moisturizng BB cream with medium coverage. I use this during nights out.
8. Make-up forever High definition powder - to set your foundation/bb cream. Apply with a puff
9. Etude house BB magic pact in No.1 Light Beige, pressed powder. I usually wear this alone during work after my primers. Sheer coverage and natural looking
C) Eyes/Cheeks/Lips
10) Fresh Inc, Sugar Honey tinted lip treatment - although it's a balm, it has very pigmented colours, just like a lippy. I love this pinkish nude lip balm with it's very buildable colour. Simply dab on lips for very natural-looking lips. Apply once or twice for a more intense colour. It's not super moisturizing so it's quite lasting.
11) Fairydrops Platinum mascara - Lengthens and doesnt smudge all day but I really hate the brush sometimes, coats unevenly.
12) Revlon blusher in 020 Tawny Peach - not a very pigmented blush but I really like that it's a very buildable and natural colour. For fair skin like mine, I'm terrified with very pigmented blushers which can go very intense at first swipe. I'll look like I'm singing opera. (=.=)''''' Therefore I love this Revlon peachy blush because I can control how intense it looks. Natural base make-up needs to go with natural-looking blush. Very lasting. Not recommended for tan skin as it might not be visible.
13) Maybelline Impact Express Smooth Felt eye liner in black - I use them to line upper and lower eyes too and they dont smudge at all. Very easy to control/use. However, it's not water-proof. But it's already good enough for me on normal working days.

All the above mentioned products are simply great because they're so flexible - they can be very natural looking or applied more intensely for a night of clubbing depending on how you use them.
Sometimes, I'll throw on a pair of falsies if I have time to spare . =P This is the best eye lash glue I've used. IMHO, it's much much better than Shu Uemura or DUO.
14) Darkness eye lash glue, from Korea. Comes in clear or black.
Last but definitely not the least, always bring
15) Clean&Clear Oil Blotters
with you! And you're done!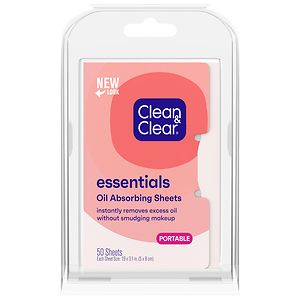 All these products dont break me out and can be purchased at
Watson, SASA or Sephora
.
Thanks for reading!
(P/S Products with numbers
underlined
are what I usually use/wear for work)