Hmmm.............I cant sleep. =(
Just have a quick entry to share some of my favorite beauty products. I've always wanted to do this but didnt really have the time or bother to have the effort to do it. Sometimes when I come across a product which is extremely outstanding or food which is really delicious, I really feel like blogging about it. Dont you feel so sometimes? =) Hopefully I can do this consistently every month. Opps. Okie, this is the new year 2013 February. Perhaps we can backdate abit and name it January Favorites. =P
To start off, I would like to say I wont mention some of the all-time holy-grail beauty products, like,
Urban Decay's Primer Potion
or it's
NAKED palette
etc(I love them too =), or products which I've mentioned before in some entries. Because they will be nothing new. Instead, I always love to discover new products. The feeling is like discovering a rare gem and it feels great.
Holika Holika - Luminous Silk Aura Highlighter
The reason why I picked this up was mainly because of it's beige colour highlighter on the right; because I felt that my Shu Uemura's highlighter powder was overly stark white despite being a little shimmery. With Holika Holika - Luminous Silk Aura Highlighter, I love to use the beige highlighter during daytime and I wouldnt look "over" or too "made-up". I seldom like to touch up for fear of making my makeup thicker so I love to use this to highlight my nose bridge, fore-head, brow-bone, chin and under the eyes to brighten up my face. It's effect is extremely flattering as it simply gives a natural glow and lends a 3D effect; makes your features more distinct. In short, if I need to choose whether to bring my face powder or this highlighter out in a classy-but-extremely-small pouch, I will bring this highlighter. It's a must-have. It's extremely pigmented so there's a need to use this with a small fluffy brush with a very light hand. Start from the middle of under-your-eye before you swipe left and right again. Can use the white highlighter at night. The pink one can lend a sweet pinkish glow to your cheeks and nose tip but do be moderate. It's not very lasting though, touch-ups are needed. - Holika Holika has a counter in Wisma.
Extreme right : ZA - Total hydration Moist(not Fresh) Lucent Toner
Initially I bought this for my face. Then I realized after I applied it, my face got extremely oily after awhile. It's simply too much for my oily-combination skin. So instead of throwing it away which is a waste, I apply it to my body. HAHAHA. This is my style: everytime a facial product doesnt work on my face, I will apply it to the neck, if not, to my body. And I was really really pleasantly surprised. I have very very dry skin(body) as I usually stay in air-conditioned for more than 12hours. They're so dry that I will feel pain if I dont moisturize them enough. =( Dont you think God loves playing me around.....he gives me a F*up face which has more than enough oil but a body with skin so dry that it hurts. =~( That's why I have the habit to apply moisturizer every night; not that I'm diligent but simply because I've no choice. Frankly speaking, I think I apply more stuff to my body than my face....which I simply bo chup... Sadly, not many body lotions can hydrate my skin well; they only leave a slight greasy feeling behind. With ZA - Total hydration Moist Lucent Toner, my skin actually feels hydrated, soft and very smooth. Best thing, it doesnt leave any sticky feeling behind, AT ALL. The bad point will be, because it's liquid, it tends to drip but I'll just use it anyway. It's so cheap too! It's always better to follow up with an oil-based moisturizer after that to lock in the water-based nutrients but usually I'm too lazy to do that.


On Left: Organia - Relaxing Olive Body Cleanser
As I've mentioned, I have very dry skin so I'm extremely particular with my body wash. The above-mentioned is one of my favorite body cleansers that doesnt dry out my skin further like the others. I've lost count of the number of bottles which I've used. Smells great too. It costs around S$19.90 in stores like BHG and Robinsons. The shampoo from the same range is pretty good too(giant bottle); a very luxurious and relaxing shampoo for dry hair, which I use time to time.
Marc Anthony - Brilliant Colour Shampoo
As the name suggests, it protects your hair colour. I cant comment this is the best around because frankly speaking I haven tried many. I only know the
red-colour-bottled colour-protecting shampoo from L'oreal
sucks, because after using it, I saw with my own eyes that my brown hair has few strands that turned
golden
. Freaked me out. At least this one from
Marc Anthony
doesnt
, and is reasonably suitable for my oily scalp cum dry coloured hair. - Available at Watson, below S$20.
The Face Shop - Blemish Zero Bubble foam cleanser
I have sensitive and acne-prone skin and I read that foam cleanser suits the most; more so one with anti-blemish properties, mineral oil/alchol and artifical colarant free. And this cleanser, with it's anti-blemish formula does reduce my occurrence of break-outs significantly. What's great about it it leaves skin feeling clean, very soft and smooth instead of drying the face out like other anti-acne products. It's gentle enough to be used everyday too. Very highly recommended. Quite 1 of the best cleansers I've tried. And it costs around S$20 only.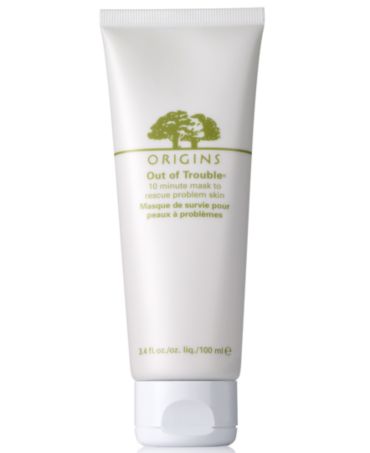 Origins - Out of Trouble Mask
You might have heard of this product before. It is 1 of the 3 masks(100ml each) which I purchased in a Christmas Gift pack for S$60. I feel it's very worth it. And it's my favorite among the 3. As the name suggests, just 10minutes on your face, it calms redness and sensitivity and helps to diminish/eliminate pimples which threatens to pop out on the face. It's a great emergency mask just before a dinner. But...the smell of this mask is really strong......like those chinese medicated smell. However, it's only there when you're applying it.
I'm gonna add in 1 item which I hate for every monthly favorites. =P And for this month..........it will be..........
January Most Hated Product 2013
Mario Badescu - Vitamin C Serum
I first heard about it on
Jen's
monthly favorites and she claimed it helps to lighten her pigmentation/acne scars considerably. I dont know what possessed me but I really went to get it at Sephora at a whooping S$138. What's best is I didnt test it at all because I was in a hurry. There wasnt a tester then. And I got extremely annoyed after I'm home as I realized it's has such a oily liquid texture. What's worse??!! It smells like oil too!! Argghhh. Nevermind, I did still try it but it didnt lighten any of my imperfections at all. But it's smell has almost nearly suffocate me to death. Now, I use it as a cuticle oil on my
FEET
because that's the furthest it can get away from me. I can now boast that I use a S$100+ cuticle oil for my feet. *Rolls eyes* I
forced
urged dearie to use it on his feet's cuticles too and he, who is the
least sensitive
to smells, also commented, "Hmm....why your this oil smells so weird.....not nice...." Hahaha. One of the most unworthy investment of all times.
Okie, that's enough for now......hope you all enjoyed...... Will do February favorites soon.
Movie Title: Ah Boys to men 2
Ratings: 4.5/5
Comments: Liked the show very much. I thought it's funnier than part 1!
More touching scenes too....makes me cry. =P Liu Qian Yi(the father) really can act manz!!
A great show to watch with your family and NS mates. =)