Giovanni 50:50 Balanced Hydrating-Clarifying Shampoo
Together with the conditioner, the pair was my birthday present from Ir. It might be because I was using pretty moisturizing shampoos for the previous months and I felt there's alot of build-up on my scalp which caused alot of discomfort. Clarifying shampoos are not known for being super moisturizing. However, this shampoo did a GREAT job is cleaning up my scalp; it simply feels so clean, so fresh. While it isnt a hydrating shampoo(to me), it did not dry out my already-very-dry hair. A good conditioner/treatment is still essential after shampooing. Lathers well, smells nice. Recommended to use once every 3 days for oily scalp and dry hair to purify the scalp.
This is not easily available in Sg and I got it at S$26.90 from Luxola.com. FYI, I have long hair which are easily in tangles especially after washing. I usually have to use big-fork combs to zig-zag through the tangles carefully so as not to hurt my scalp or cause even more hair loss. Most of the time, hair being tugged off is an inevitable painful scenario which I have to endure, despite being very slow and careful. Imagine my glee when I ran Tangle Teezer through my tresses without being stucked midway. I was simply AMAZED because the brush went through smoothly without experiencing any pain(from hair fall). I must say hair fall is reduced and hair brushing became an easier chore because I dont need to zig-zag-comb it ever so carefully and slowly. My only gripe is that I feel it doesnt have a very sturdy grip because it has no handle(the way it was designed).
ZA - Smooth Cleansing Oil
I cant tell you how much I LOVE this cleansing oil. It's texture is not overly thick or liquid. It cleanses extremely well; removes all my waterproof eye makeup and eyelash glue easily. It's easy to emulsify it and wash off too. And doesnt leave an oily residue behind. In fact, it already feels squeaky clean even without double cleansing. But I did(double cleansing) anyway. Lovely smell(signature ZA smell). It's pretty affordable too. Love love love! I shall stick to this for a very long time.
Origins Super Spot Remover - Blemish treatment gel
This is a super tiny bottle retailing at S$30 but a little goes a long way for pimples. I feel it works great on swollen bumps(like when you feel a pimple might be popping out) and on big swollen pimples which feels soft to the touch. It stings like hell but usually after applying it, the next day the bump will either disappear or shrink in size.
Actually I seldom use it until few weeks ago, I almost used 3/4 bottle for more than a week on some pimples on the side of my chin. But somehow they kept coming back after subsiding for awhile, each time more serious than the last. They became real hard, as if there were something inside. I purged and they bled etc. I was really at my wits end as I realize it's never going to heal. That's when I tried another product that has been sitting in my drawer; Acnevir Acne & Redness Relief Gel, the next product below.
Acnevir Acne & Redness Relief Gel
This was simply my life saver few weeks ago. I was having a few of the most insistent and stubborn acne at the side of my chin which simply dont go away! They're the type which felt real hard as if something were inside; totally different from the soft bumps which I usually have(which Origins Spot Remover works best). Acnevir is simply AMAZING. I couldnt believe the acne which bothered me for WEEKS and which shamed the renowned Origins Spot Remover, could be healed in just ONE NIGHT. In the next morning, when I touched my chin, they felt smooth and even. Which was almost unbelievable because they were like red, uneven with something hard inside just the night before. The ugly hyper-pigmentation marks were still there though. =( But at least they are totally smooth and flat now and can be covered properly with little concealer. I still continued to use Acnevir for few days on the marks, it did lighten the marks alittle further but finally stopped lightening it. I guess, it's duty end there and I just need to find another product to lighten my marks. Sigh....
I'll say both Origins Super Spot Remover - Blemish treatment gel

and

Acnevir Acne & Redness Relief Gel are awesome products; it depends on what kind of pimples/acne you have. If you have soft, swollen bumps, go for the former. If you have hard bumps as if something is inside, with bleeding etc, then go for the later. But Acnevir is so much more affordable, perhaps less than 1/3 of Origin's price. However, it can only be purchased from drugstore.com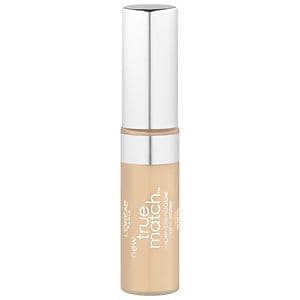 L'oreal True Match Super blendable Concealer in neutral
Like I said, the horrendous acne left marks behind. =( And I had to go buy a concealer because I dont own 1. I was pretty lucky that my first buy turned out to be great for me. The shade "neutral" was great to pair with most of my foundations. Very blendable. It's actually pretty light but it's buildable to max medium coverage. Not more than that. It looks very natural and lasting power is not bad. It's light and airy texture is also suitable to use as a highlighter under the eyes or at the t-zone(if you're getting a slightly lighter shade than your skin tone)
Etude House - Nail Remover Acetone Free
I have very dry hands and cuticles, so much so skin around my cuticles peel. So painful. =( This nail remover is gentle and doesnt cause my nails to get more brittle. It's not a very strong remover so yes you need alittle more patience when removing nail polishes but rest assured they still do a good job in complete removal. What's more important is, I realized my nails did not get softer and weaker after using it, as it always do with other nail removers. What's even better, the aloe vera oil in it conditions my nails and cuticles very well so they feel very moisturized. You can totally skip using cuticle oil, if you're as lazy as me. It might leave some oily residue behind but if I find it being too much, I will use tissue paper to wipe it off. Before using, you need to shake the bottle. Nice smell too
Seche Clear Crystal Clear Base Coat
I know Seche is renowned for it's top coat, Seche Vite which dries extremely fast and gives a brilliant and glossy finish to any nail polish. Yes I totally agree. While I love all these properties, I'm extremely disappointed with it's poor protection of colour. Despite sealing in the colour with an ending horizontal swipe along the nail tip, colours can get chipped off after 1 shampoo wash. So it's not really my favorite.
Instead, I love it's base coat more. I dont have smooth nail beds because I dont buff my nails prior to applying nail polishes and Seche Clear do a great job at creating a very smooth nail bed for colours to go on flawlessly. It's also pretty liquid in texture, provides a very thin coat and dries fast.

Bourjois Loose powder, Airy Finish in 01 peach
This powder is so so so fine! It does give an airy finish and feels so light on the face. Maybe you might think so what if a loose powder is very finely milled? Well, it means, it goes on very smoothly on your skin. It will in turn makes your skin look very smooth and flawless because it adheres very well on your skin. A finely-milled powder will also make your skin feels as soft as a peach. Also, it will be light-weight on your skin so that your makeup wont look thick; so long so you have the right colour(or else choose "translucent"), it will look flawless and natural if you got a good base(foundation/bb cream etc). It's better for your pores too as it wont clog. =)
However, the packaging and puff really sucks! I think I need to transfer the powder and replace the puff.